pony.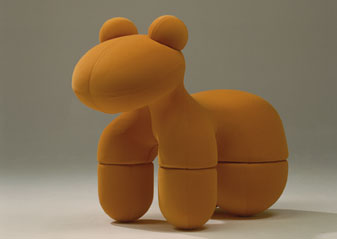 I don't think I can describe the
Pony
any better than creator
Eero Aarnio
already has: "A chair is a chair, is a chair, is a chair ... but a seat does not necessarily have to be a chair. It can be anything as it is ergonomically correct. A seat could even be a small and soft Pony on which you can 'ride' or sit sideways."
not. a. toy.
Aarnio maintains that the Pony is not a toy, at least not a toy for kids. To emphasize the point, he made it big. How big? Trust me, the thing is, like,
big
. Like, bigger than you think when you think "big" but not quite into "huge" territory. Big enough for a big kid like me anyway. Big enough that you better have a big room to put it in, too.
sitting.
As far as sitting on the Pony goes, I don't think that's going to happen too much. It's really more of a looking-at than a sitting-on piece. And honestly it's mostly a what-is-that? kind of piece. But those are certainly fun to have around. And the Pony is funner than most.
1973.
The original Pony was released in 1973, but Aarnio and
ADELTA
have teamed up to make a modern version. It's only for those with, like,
big
wallets though. The cheapest I've seen it is about $2,000. I guess I'm going to confine my looking-at to the store for now.