flexible. pvc.sink.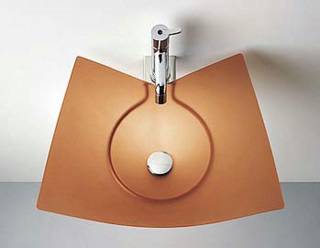 This sink from
Agape
in Italy is made from a sheet of flexible PVC and seems to float in air. I first saw it at a store called
Inform
in Vancouver, B.C., then again in Inform's Seattle showroom. Both times it caught my eye straight away. When I reached out to touch it, I was delighted to discover it had a pleasant, flexible feel, not unlike a piece of licorice (or a gummy bear!). That means it's both unique and sturdy, although tasting is not allowed so I can't comment on that aspect. I bet kids would love this as much as I do.
the. picture.
The photo I took in person doesn't do the sink justice, but this one from the Agape site does.
the. cost.
Inform tells me that they sell the small version for $700 and the larger version for $800. The siphon (i.e. drain) and faucet are extra.
inform. informs.
When she found out I lived on the East Coast, the friendly woman in the Seattle Inform store told me I could also find this sink in the Moss store in New York City.