the. well. dressed. home.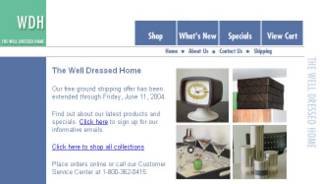 I found
The Well Dressed Home
while scouring the Web for the lowest price on the Soho Spice Rack. The site is simple but professional looking, and despite the cheap pricing it didn't strike me as the kind of place that would just take my money and run. Since I was ordering three of the $88 priced racks, I e-mailed and asked if there was a discount for "bulk" orders. A fellow named Jim wrote back immediately with a code giving me a 10% discount.
the. collection.
WDH has a modest collection, mostly of items I've seen on similar sites. It's all accessories, no furniture. On the other hand the pricing is good, the site is easy to get around, and Jim was a pleasure to deal with.
hot. tips.
The WDH's specials page seems to actually have decently priced special items, unlike many sites I've been to.