KLOC. floor. lounger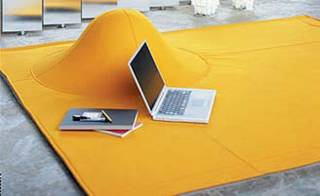 The KLOC Floor Lounger from
Ligne Roset
is basically a padded rug with a built-in hump. If you're thinking, "There must be more to it than that" then you're thinking too hard. Rug. Hump. That's all you get.
what. good. is. it?
If you're thinking, "What good is a rug with a hump in it?" I can't say I blame you. But it does have a few things going for it. First off, it's a pretty nice rug. It's made of felt covered in a wool fabric, and it comes in a bunch of colors. Basically, it looks kind of cool and it's got a great texture. It is, in fact, great for lounging on.
okay. but.
The hump is a bit weird, I admit. Ligne Roset calls it an "integrated dome for head and shoulder support" but I've tried it and, honestly, it's not all that much fun to put your head and shoulders against. You can, however, lean against it and get some needed lower-back support from time to time, which makes it perfect for two things: video games and Web surfing.
any. position.
When you just want to lie around and surf the Web on your wireless laptop, everyday rugs and carpets won't do for very long. But the KLOC excels in this area. It basically lets you get comfortable in any position you want: sitting up a bit, lying down, on your back, on your stomach, curled on your side, etc. Just not with your head lying directly against the hump. In fact, the only way they could make the KLOC better for surfing and/or gaming is if they tucked a wireless node and an Xbox in the hump. (I have no idea what the hump is made of, by the way.)