ola. phone.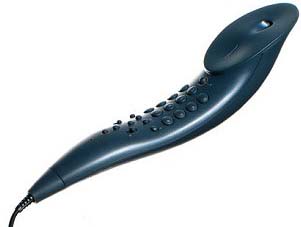 I was browsing the
Funky Phone Company
and came across this awesomely organic design by Philippe Starck. Called the OLA, it grew out of his desire to "make a telephone which was no more than an extension of the human limb."
human?
Although I love the phone, I have to point out that it doesn't look much like an extension of a
human
arm. Maybe an alien arm, or a body part from a Cronenberg film.
standard. functions.
While the design is unusual, the phone itself operates in the usual fashion. It has things like mute, redial, memory dialing and so on. The color choices, however, are weirdly limited to dark grey, light grey and mint green.
france. phone.
The OLA was designed for the French company Thompson and comes with European wiring, but you can buy it with a U.S. adaptor kit from the stores that sell it (which are precious few, as it's no longer in production).