s.w.b.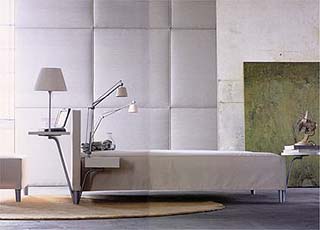 The
S.W.B.
bed is yet another excellent design from Philippe Starck, but not for the usual Starck reasons. I'll be honest, at first glance the S.W.B. doesn't look much different from about a million other minimalist modern beds I've seen. So what is Starck giving us that's so unusual? One word: Accessories!
made. to. be. different.
One of my big complaints about beds -- and bedrooms in general -- is that it's hard to get things to work well with other things. Get a gorgeous, giant headboard, for instance, and you'll find there's no good place to put a reading light on or next to it. Get a nice, exotic looking bed and suddenly you can't find a nightstand to match.
lights. tables. shelves.
The S.W.B., on the other hand, has more accessories than most people will need (but you don't have to buy them all). There's an optional bedside table (left or right side option) that can be further outfitted with a drawer and a reading light. There's a padded rectangular foot bench, but if that's too big, you can use the smaller, round foot table (also left or right side option). And if the headboard isn't backed against a wall, you can get a headboard shelf. And finally, there's an optional light for the headboard shelf.
wenge.
The S.W.B. even comes with an option I wasn't familiar with: You can get the accessories in maple, matte lacquered in ivory and gray, or ... wenge. (Wenge, a tropical hardwood not listed in my dictionary but that a kind Funfurde reader told me about. Thanks!) The other thing I couldn't find was a price, but I'd expect it to be pretty unreasonable. It is Starck, after all!