(c)lamp.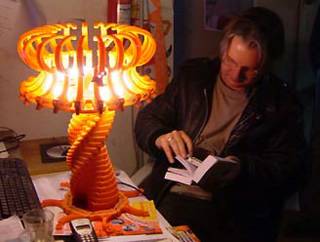 Cyber journalist, Wired blogger, science fiction author and design maven
Bruce Sterling
is putting the final touches on his first commercial lighting project, called the (C)lamp. Here he is in Paris reading by the light of his own creation. Nice work if you can get it, Bruce!
oh. lamp.
Not having seen it in person, my first reaction from the pic is "Oh, how orange!" And then "Oh, how organic." But ultimately I think I'll end up with, "Oh, how cool." (Maybe it should be called the (O)lamp?) It's kind of like a Halloween mushroom made out of DNA. In case you're wondering, I mean that in a good way.
available.
In terms of availability, Bruce says: "Should be next month, if all goes well. We are ironing out final manufacturing details."