ruf. cinema. bed.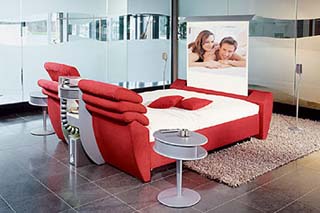 Want to watch a DVD while you doze off? Forget bolting a flat panel TV to your four-poster. If you want a
real
home theater in your boudoir -- and by real theater I mean a screen and a projector, not just a TV -- you want the Ruf Cinema Bed from
Ruf-Betten
.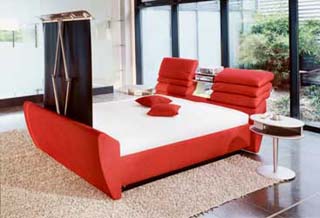 multi-faceted.
Described as the first multimedia bed, the Ruf has a fold-out screen tucked in the footboard (activated by remote, of course), and a shelf for a projector between the two plush headboards. There's also room for some DVDs, a DVD player, a conduit for cables and even a place to hide your subwoofer. Rockin! The bed is also pretty attractive in a modern-puffy-furniture way, though I imagine few are buying this for looks alone. Haven't come across pricing yet.