word. clock.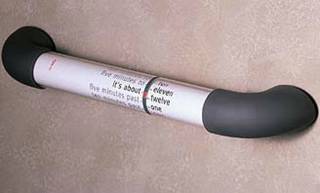 When I think about what time it is, I usually think in relative terms, not the absolute numbers most clocks use. If it's almost twelve o'clock, for instance, I usually think something cunning like, "It's almost twelve o'clock." I don't usually think "It's 11:57:02."
dutch. architects.
Apparently some Dutch architects think the same way I do, which is why they invented the
Word Clock
. The clock doesn't use numerical notation to show you what time it is, it uses ... words. With the Word Clock, 11:55 becomes "Five minutes to twelve." And 11:57:02 becomes "It's about twelve."
no. hands.
A clock with no numbers might not be such a big deal, but this one also does without those old timepiece mainstays, the clock hands. And while designers Muller and van Dongen were at it, they ditched the typical square or circle designs of most clocks and instead went with a cylinder. As the two parts of the cylinder rotate, the number words ("three," "seven," "twelve," etc.) line up with the appropriate phrases ("ten minutes past," "five minutes to," etc.) to tell you the time.
time. for. options.
You can get the Word Clock in a bunch of languages, like Japanese, English, French and, of course, Dutch. You can also get it in different sizes, such as 21" long or 33" long. And you even have options when it comes to placement, since it will work on both horizontal and vertical surfaces.
hot. tip.
A place called
Lifestyle Fascination
is selling the 21" version for $50 less than the list price.