mars. chair.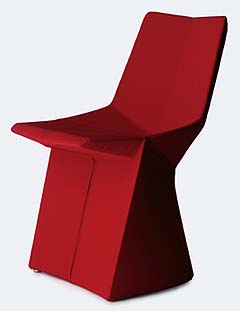 The
Mars Chair
has a lot of angles on it, but none of them are right angles. That doesn't mean they're wrong angles, just that the chair has a unique surface geometry.
the. more. you. look.
All that edgy geometry makes the chair look different from different points of view, or so the copywriters say. They also make it comfortable to sit in, since the seat has a hollow for your, um, other planets, and the back is slightly inclined.
the. color. red.
Mars comes in a few colors, but if you get it in anything other than red you're a Philistine. I mean, really, a white Mars chair? Not happening. The good news is that while it costs NASA billions to go to Mars, you can have this Mars chair brought to you for just about $1,300.