morfeo.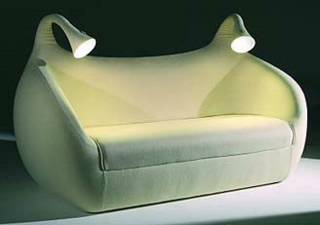 According to the manufacturer, the
Morfeo
couch owes a nod to Morpheus, the god of sleep and dreams. Dreams I presume because the couch is dreamy looking and you'll hopefully have wonderful dreams when you sleep on it, and sleep because the couch also unfolds into a bed.
aether.
I think they should also throw in a mention about Aether, the god of light, because of the wicked funky flexible lights on the Morfeo. These are especially cool because I'm always needing reading lights, and Morfeo's dual beam action means I have both sides of the bed/couch covered. When you don't need the lights for reading, you can just point them at the ceiling and you've got a couple of torchiers for atmosphere.
little. info.
I don't have a lot of hard information on Morfeo, like pricing or availability. I do know it's new for 2004, so hopefully we'll be hearing more about it.