the. tube. lamp.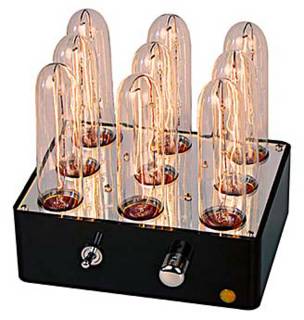 I love this modern lamp made from retro tubes. How great is it? So great that it has its own
Web site
. The fact that creator Nik Willmore says it was "nerdily conceived" is just an extra bonus.
showcase.
The lamp is made of 9 so-called "showcase" bulbs controlled by a dimmer. They're called "showcase" because they're used in store displays and picture frame lights. Of course they are. You can buy replacements at Home Depot, but Nik says they typically don't burn out, so don't stress about that.
telecaster.
Cool feature: The dimmer is a knob taken from a Fender Telecaster electric guitar. The box itself is made from bakelite, and the top is a mirror. The maximum power is 200 watts, while the maximum price is $275. Right now you can get them for $225, though.