pablo. vase.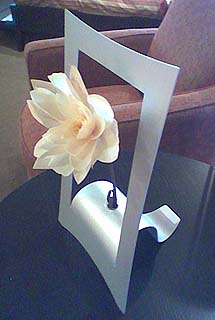 Flower vases and pictures have always had a strange relationship, mostly because people feel compelled to paint endless pictures of flower vases. The Pablo Vase combines the two so that the vase
is
the picture, and vice versa. Brilliant.
picture. this.
What really makes this vase work for me is that it plays with my sense of dimensionality. My mind sees "picture frame" and thinks 2-D, but it's really 3-D. My mind also sees "flower" and thinks 3-D, but then it sees picture frame and starts leaning back toward 2-D again. The end results is invariably a smile. (The 2-D/3-D effect is more striking when you see the Pablo Vase head on, instead of angled as in this picture.)
good. bad. news.
The good news is the Pablo Vase is pretty inexpensive at about $20 (
correction: $45
) per frame...er vase. The bad news is I haven't been able to find it for sale online. Searching for anything like "Pablo Vase" has been a bit hopeless because of that famous artist guy. I saw this one at Kasala in Seattle (photo take with Nokia 3650 camera phone). If you've seen one online, let me know.
Note: It sure looks and sounds like a Pablo product, but I can't find it on their site.

Note2: Lorena wrote in to tell me that Shopdevidence.com has them. Thanks Lorena!