radical. radiators.
I used to think radiators were crappy, unsightly relics of Victorian era plumbing that had to be hidden away at all costs. If I'd known they made them this cool (er, hot) looking, I wouldn't have been so quick to buy a house with central air. Seriously, these things are outrageous, and
Bisque
carries way more than I have pictured here. And, yes, by "radiator" I do mean those things that heat your house. You may be confused looking at the pictures, wondering if I meant to say "metal sculptures" instead of "radiators."
six. feet. over.
A lot of these are over six feet tall, so you'll need to dedicate quite a bit of room to them. Most are made to be hooked into central heating systems, but some have stand-alone electric versions as well. (The Power Plant -- the tall spiky plant-like one -- is only available in an electric version.)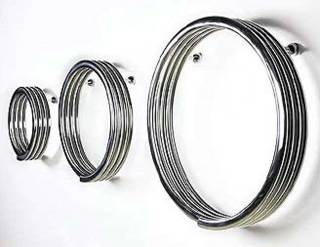 hot. prices.
The prices are probably too hot for most homeowners, though. The ones I found are from the U.K. and range from hundreds to thousands of pounds. At current exchange rates that means some of them cost more (a lot more) than some cars I've owned. Of course, the cars didn't look this good...