sheren-bett. expandable. bed.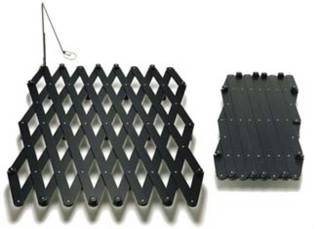 The Sheren-Bett Expandable Bed is neat solution if you're not quite sure what size bed you'll be using down the road, or you're not quite sure what mattress or mattress-like-thing you'll be using it with. (I've gone from a twin-size mattress to a large futon to a full queen mattress in my time, buying a different frame for each, so this is something that interests me.) Designer Daniel Thut made a bed frame that expands and contracts to suit any mattress size, so he's got you covered on that front. And if you don't like a mattress, it will support "a surface beside (sic) the mattress."
extras.
It looks like you can also buy a few bolt-on extras for the bed, like a side light (pictured) or a table piece that I saw
here
on MoCoLoco. I'm a sucker for bolt-on useful bits that come with beds, so I love these options.
hidden. beauty.
Besides the price (I saw it for a not inconsiderable $2,895 at
Moss Online
), the only thing I don't like about the Sheren Bett is that, when the mattress (or whatever) is on it, you can't see how cool it looks.