up 5. chair.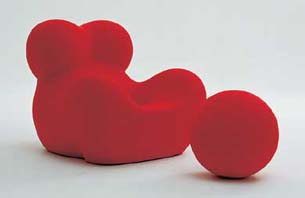 Chris, a Funfurde reader, pointed me to the
UP 5
chair by B&B Italia. It's part of the UP2000 series, which is based on a design first unveiled by Gaetano Pesce in 1969. The UP2000 furniture is described as "a series of seven seatings of various dimensions, upholstered in a particular stretch fabric, whose anthropomorphic forms conserve intact, thirty years after their first appearance, the great visual impact which made them unique in time and throughout the world." Whoa.
mother's. lap.
I think what all that boils down to is: "Hey, this furniture looked pretty funky in 1969 and it still looks pretty funky today." Which it does. The UP 5 (pictured) seems to be the most interesting of the bunch. The description sure is: "a large mother's lap which reminds us of votive statues of prehistoric goddesses of fertility." Whoa again.
made. of.
The UP2000 series is made of polyurethane foam, and although I haven't had the chance to try out any of this stuff, I've personally never been too taken with foam furniture. I couldn't find pricing, but I'm sure it's the typical out-of-reach-for-mortals amount. Still, one can always dream. And dream about prehistoric goddesses to boot. Whoa.