art.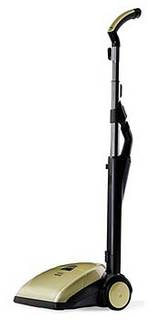 When you go to the
ART Web site
you'll see some pretty unusual vacuum cleaner images: there's one in a collector's case, another by an artist's easel, and a third by a couple in bed with a dozen roses. What's going on here?
art. as. art.
What's going on is that Miele has created a designer vacuum cleaner called ART, one that's supposed to look as good as it works. In other words, there's art behind ART (as well as cleaning power). Considering how most vacuums look, I think Miele has done a credible job. Not only does ART have a cool shape and a low profile, it also comes in some fun colors: Hot Chocolate, Black Mystery and Red Roses (pictured below).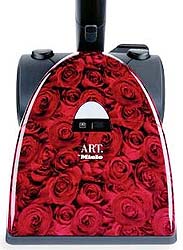 video. art.
ART is so designer, it even has
its own video
. And I even watched it. It's mostly fluff, but it does show ART performing some interesting maneuvers that I wish my vacuum (Dirt Devil MVP, if you must know) could. The coolest thing is where the handle not only tilts but also twists.
the. details.
There's a bunch of vacuum-speak on the ART site like "1,000 watts" and "integrated universal floorhead" that I assume proves that ART picks up dirt reasonably well. Miele products tend to be pretty good, so I'll take them at their word. They also tend to be expensive, and the $399 for ART is higher than most vacuums I've seen but doesn't seem off-the-wall crazy.