mago. serving. trolley.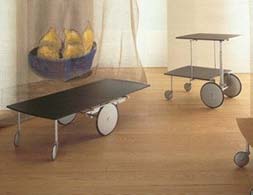 Sometimes I could use a serving trolley and other times I could use a coffee table, but no times could I use both simultaneously, due to space issues. Since I can't have both, I don't have either, but if I did, I'd also want them to look kind of modern but kind of funky. And while we're at it, I have a weakness for tables with big wheels, so...why not throw those in too?
raul. barbieri.
There's an Italian designer named Raul Barbieri who not only had all of these same thoughts, he did something about them. In 1992 the thoughtful Barbieri created the "Mago Cart," which I've pretty much already described. It's a serving trolley (a.k.a. bar cart) that can morph into a coffee table, it's both modern and funky, and it's got big wheels. And, bonus: It has small wheels too.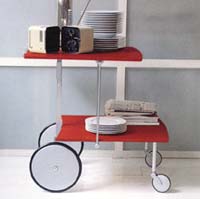 i. dream. in. color.
I never actually got around to thinking up the color part of my hypothetical troll-offee-able, but Barbieri did. The Mago comes in a lacquered black or red finish. Hm. Maybe I should have thought a bit about that, as I'm not a huge fan of red. Oh well. The metal bits are anodized aluminum, which is probably what I would have done too. Nice job Raul.
cost.
I'm thinking of a hypothetical price for my troll-offee-able, and it's not in the mid $700 range. Raul, do you hear me? Sadly,
not
.